Evernote changed my life - save changes?
I was pointed to Evernote by various blogs here and there. I have managed to somehow ignore it for a while, but not any more. I have signed up and downloaded the Evernote for Windows and Evernote Firefox plugin.
My life is forever changed.
Forget notepad scraps here and there, digital or otherwise. Forget loose photos. Forget website bookmarks that you later can't find or forgot what they were about and why. Forget not remembering where you found stuff. Your memory storage system will be changed forever. There's Evernote.
When I finally went trough all the little rubbishy stuff I had lying around in the documents folders and bookmarks and other, lesser bookmarking services I have discovered that at last I know where everything is and even if I don't, Evernote does. All the funny tweeted comments can be easily stored away for later with five characters only (@myEN) and the world is at last neatly organised and clean and simple and OH MY GOD I HAVE A THINKING SPACE LEFT IN MY BRAIN!!!
WOW.
The usefulness of Evernote is something that there should be songs written about and odes and poetry and books and entire lives dedicated of singing praises. I can not express how magical it is.
And above all there is a feature that makes me weep in joy as the proud owner of a very tiny and portable graphics tablet: INK NOTES.
Let me tell it about you this way.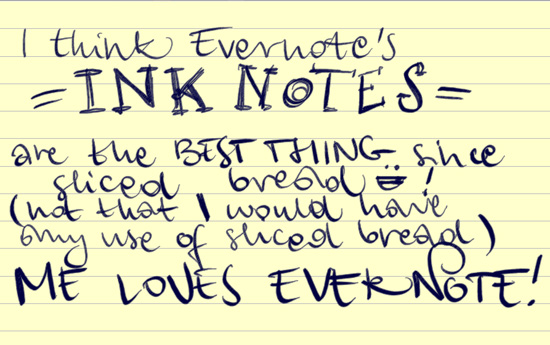 I rest my case.