Laura Mercier's Chocolate Truffle - The land of Soufflé and Honey
Since B. has neglected me over Christmas and New Year, I have emotionally blackmailed him into buying me a lot of lovely things. I dragged him to Brown Thomas during post-Christmas Sale and bullied him into buying me Laura Mercier's Chocolate Truffle Honey Bath and Soufflé Body Crème.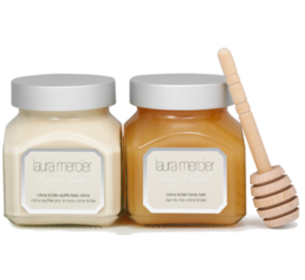 That evening, when we came back, I took a loooong hot shower and used the Honey Bath instead of my regular shower gel. (It does have consistency of honey! And smells of chocolate truffle!) Upon exiting the shower, I patted my skin dry and then massaged dollops of Soufflé Body Crème into my snow-white skin. Not only it felt luxuriously soft and moisturised, the smell of chocolate truffle was overwhelming. Then, I blow-dried my hair to wonderful sleekness, wrapped myself in my new bathrobe, gave myself a foot massage and strolled down to the living room in my blue freshly washed sheep slippers.
I felt like a million dollars. Man, I felt so great and gorgeous that I was sure that I would poop rainbows and butterflies.
My next visit to the toilets was awfully disappointing.
Verdict: While Laura Mercier's Chocolate Truffle range makes feel fabulous, I'm nonetheless full of shit.
(Note: the Chocolate Truffle series are no longer available - they are "retired product" as the girl in Brown Thomas said - but there are others that smell great!)